Sa 25.5.
14/21°

Su 26.5.
13/21°

Mo 27.5.
12/24°
The Charles Bridge, Vltava, prague bridges and islands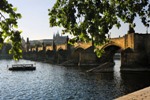 In 1169, Prague already had a stone bridge, named Judith Bridge in honour of the wife of King Vladislav I. It stood roughly on the site of the present-day Charles Bridge, but it was lower, had more arches and was longer, because it pointed more in the direction of the flow of the river from the Lesser Town bank. The Lesser Town Bridge Gate, built on the site of a 12th century Romanesque tower, still respects the angle of the original Judith Bridge and is thus somewhat out of sync with the Charles Bridge. The Judith Bridge was swept away by a flood in 1342 and so Charles IV had a new stone bridge – The Charles Bridge – built from 1357. Its outstanding construction relates the genius of Petr Parléř. The bridge is 520 metres long by 10 metres wide, and sixteen arches support it. The bridge pillars form the bases for sculptural decoration. Now the bridge is decorated with twenty eight sculptures, mainly dating from the Baroque period.
The oldest preserved statue on the Charles Bridge is St. John Nepomuk from 1683. It stands on the spot from where his body was thrown into the river. The cult of this saint and the custom of placing his statues on bridges spread out from here.
The ecclesiastical orders and the university faculties competed with each other in the magnificence of their celebrations of their holy protectors.
On the Old Town riverbank, the bridge ends at the Old Town Bridge Tower, which boasts rich decoration from the 1380s. Depictions of the reigning Charles IV, his son Wenceslas IV, and their kingdom under the protection of the country's saints, lead the eye to another aspect of their era with disgraceful scenes on the cornices on the ground floor of the tower.
The small, but picturesque Kampa island spreads out by the Lesser Town river bank under the arches of the Charles Bridge. Like the Lesser Town, it is full of ostentatious palaces, beautiful gardens and parks, but also romantic nooks, where you will perhaps meet figures from old Prague fairytales or ghosts.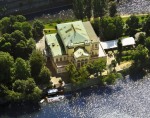 Eight islands stretch through Prague along the Vltava. Apart from Kampa, the main one is Slav Island (originally Barvířský, later called Žofín until 1918) – a centre of social life. Concerts by Liszt, Berlioz and Tchaikovsky were played on in the restaurant in the early 19th century. In 1848, the Slav Congress took place here, attended by representatives of all the Slavic nations, but revolution broke out before they could agree on anything.
It is possible to sail in tourist boats along the Vltava today, but the more able-bodied can hire pedal boats and romantically paddle amongst the Prague weirs. The average depth of the Vltava is around 2.5 m.