Sa 25.5.
14/21°

Su 26.5.
13/21°

Mo 27.5.
12/24°
Vyšehrad
Vyšehrad dates from the 10th century and is the legendary seat of the Přemyslid princes. Although it is newer than Prague Castle, this does not detract from its significance. It reached its period of greatest glory in the second half of the 11th century. At that time, Bohemian King, Vratislav II often resided here as he hated his ambitious brother Jaromír, who was Bishop of Prague. At that time, the king also founded the capitulary Church of St. Peter and Paul here. The bishopric lost authority over the church when it was subordinated to the Pope. Its present-day appearance corresponds to the Neo-Gothic period of the 19th century. However, the actual memorial to Vratislav II – the rotunda of St. Martin – is located nearby.
The Rotunda of St. Martin is the oldest preserved Prague rotunda. Today it looks the same as it did in the 11th century.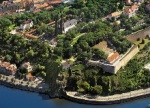 After the death of Vratislav II, Vyšehrad functioned as Prague's high royal fortress for eight hundred years. Charles IV gave Vyšehrad an opportunity to shine in the 14th century when he incorporated it into his coronation way. The ruler set out from here on his ceremonial symbolic pilgrimage through the town on his way to be crowned King of Bohemia with the crown of St. Wenceslas in the cathedral. Even though Vyšehrad more resembled a craftsman's settlement than a fortification during the 15th century, it retained its symbolic and mythic significance. The 17th century restored its role as a fortress. The interesting Baroque defences, completed by 1670, recall a system of ramparts and gates created by Carlo Lurago in the style of North Italian Baroque Classicism.
When the defensive function of Vyšehrad was no longer necessary, the Vyšehrad Cemetary began its expansion in 1866, later becoming the national cemetery – Slavín. Architecturally reorganized between 1890 and 1902, this cemetery features the most distinguished personalities from the Czech lands. The Myslbek group of statues from Palacký Bridge has stood in the Vyšehrad orchards since 1947, at the site of the Royal Palace. Legendary figures from the past come allegorically to life here.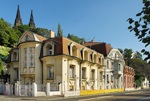 In the 17th century, the majority of Vyšehrad inhabitants moved into the area under the castle, creating a new municipal district, separated from the New Town by the Botič Stream. The Vyšehrad quarter joined Prague in 1883. Here you will find completely exceptional Cubist buildings: The Tenement Houses on Neklanova Street and the Family Villa by Josef Chochol built between 1912 and 1914, standing directly under Vyšehrad on the riverbank. These buildings are evidence of the strength and attraction of Cubism here, a new style of modern art reflecting modern life in Bohemia. The First World War, however, interrupted its development and the post-war era brought other worries.